In an era when most every product we buy is churned out by powerless, underpaid workers in a soul-less concrete factory overseas, the mountain dulcimer stands apart.
We live in a golden age of diatonic craftsmanship. At least 100 luthiers build dulcimers on a full-time basis, either in home workshops or in small American factories like McSpadden, Folkcraft and Black Mountain. None earns a fortune, but most have consecrated their lives to excellence and integrity in their craft.
There are factory-made imports, of course, but few succeed in the marketplace. That's because most buyers associate the dulcimer with individual American craftsmanship, and seek both quality and authenticity in the instruments they buy.
One long-time luthier worthy of special note is Dan Doty, who since 1973 has been crafting fine instruments with his wife at their home workshop in Memphis, TN. They make four- and six-string hourglass dulcimers using a variety of local woods. Doty dulcimers intonate with uncommon precision and sing in a rich, traditional voice. The instruments are distinctive for their bold, slightly oversized soundholes. Prices start at $325.
Bill Howard, a dulcimer collector and photographer in Tulsa, has owned three Doty instruments:
"One was a six-string that I bought for a man in our church. I almost kept it after it arrived. It was very well constructed, as all of his have proven to be. The intonation was better than most dulcimers I have owned. The action was good, very easy to play. I could recommend his instruments to anyone wanting a moderately priced, but well performing dulcimer."
The couple produce about 100 dulcimers a year, most of them sold to people who have custom ordered their instruments. A few are sold through music shops, and some are sold at the annual Harvest Celebration at Dollywood in Pigeon Forge, TN. The dulcimers rarely come up for re-sale on eBay and other online forums. They are highly desirable instruments and usually command a re-sale value close to their original purchase price.
For a few years until 2009, Dan Doty was also a distributor for Trophy Music's Applecreek line of mountain dulcimers, produced in a Romanian factory. As demand for his handcrafted instruments far outstrips his ability to supply them, it may have seemed like a good idea at the time to have something cheaper and ready-made on hand for customers -- but it was a decision Doty would come to regret.
Sold at slightly more than half the price of a genuine Doty instrument, and with Doty's warranty, some first-time buyers purchased these dulcimers without a lasting understanding that they were not made by Doty himself. The confusion was compounded by Doty's practice of putting a sticker with his contact details in the instruments over the factory label, obscuring the Applecreek lettering, although the oval Applecreek logo remained clearly visible.
"The issue concerning my sale of the Apple Creek Dulcimers -- particularly my inappropriate placement of the sticker that obscured the Apple Creek label -- is something that I take full responsibility for," Doty wrote. "I humbly apologize to anyone affected by it."
Recently, two of these instruments have appeared on eBay sold as "Dan Doty dulcimers." Both were originally purchased at Dollywood. In both cases, the eBay sellers were alerted to the mislabelling and given a full refund for the instruments, in one case by Dollywood, in the other by Doty himself.
Unless the price is low and you want an Applecreek dulcimer, these instruments should be avoided. While the performance may be slightly superior to other Applecreek dulcimers thanks to Doty's skilful set-up & presentation, they nonetheless lack the quality and authenticity of Doty's handcrafted American instruments.
Although the soundholes are similar to one standard pattern used by Doty, the Applecreek dulcimers are easily distinguished from genuine Doty instruments:

A genuine Dan Doty dulcimer. The label states clearly that the instrument was made by Mr. and Mrs. Doty. Most use metal friction tuners. The high-quality local tone woods are home-milled. The taper is slightly different -- the lower bout is larger -- and the overall quality and resale value are much higher than the Applecreek.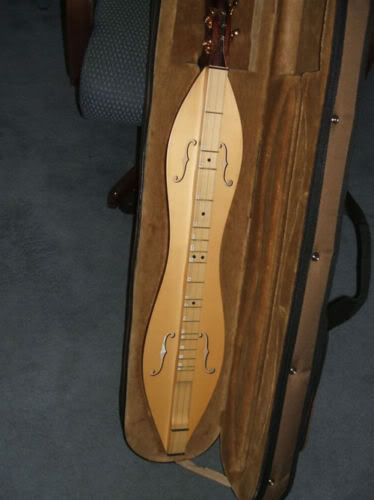 An Applecreek Dulcimer sold by Dan Doty. Inside the instrument, a computer-printout label bearing Doty's contact details partially obscures the Applecreek logo underneath. The commodity woods are uniform and of average quality. The geared tuners are affixed "dead bug" style on the headstock

The Applecreeks bear a printout label of Doty's contact details, pasted atop the Applecreek factory label. (The email address for Doty Dulcimers has changed since the label was printed: it is now ddoty35@comcast.net ). Genuine Doty dulcimers bear a proper workshop label.